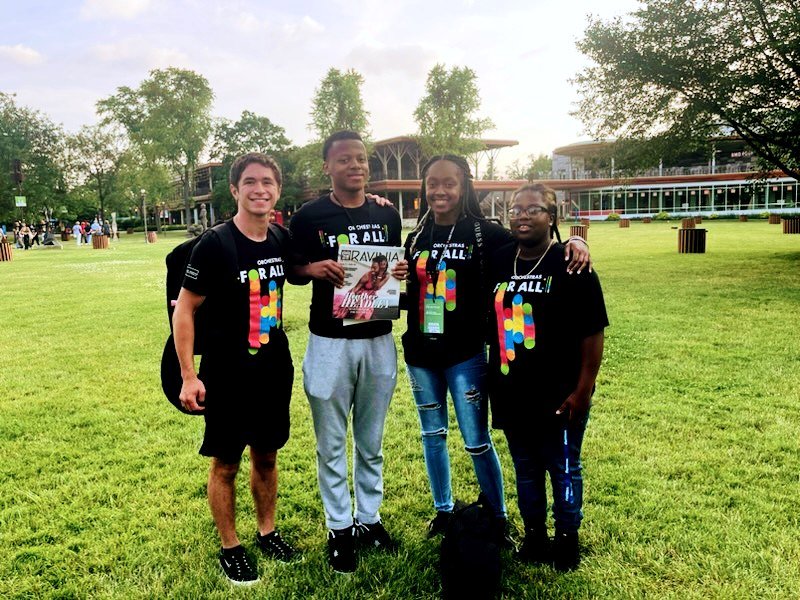 Music students from
Sistema Tulsa
and
Tulsa Public Schools
Booker T. Washington, Memorial High School, and Mingo Valley Christian School will perform with renowned conductor
Marin Alsop
at Seminario
Ravinia Festival
, a national gathering of students from El Sistema-inspired organizations in Chicago. The four-day workshop of orchestral training, mentorship, and fellowship culminates in a concert on Saturday, July 8th featuring the students in a side-by-side orchestra with the renowned Chicago Philharmonic.
Marin Alsop who is the Chief Conductor of the ORF Vienna Radio Orchestra and the first woman to serve as the head of a major orchestra in the United States, South America, Austria and Britain, said of the event:
"The opportunity to work with students so dedicated to boosting their life skills through the universal language of music is as important to me as leading any orchestra. I'm thrilled to have time over these four days to also meet with the educators who are such crucial mentors for these young people, supporting their personal growth and affirming that they are welcome and, in fact, already a cherished part of this national community of musicians."
Jose Luis Hernandez, the director of Sistema Tulsa said, "Sistema programs serve students with free instruments, music lessons, and life-affirming opportunities. After many years of dedication and practice, they have earned the honor to represent our program and the Tulsa arts community at the national level."
Sistema Students attending are:
Amaya Harbin – Booker T. Washington High School
Lamya Smith – Booker T. Washington High School
Victor Fischer – Mingo Valley Christian School
Solomon Williams – Memorial High School
Sistema Teachers attending are:
Amy Van-Vleet – Wayman Tisdale Fine Arts Academy
Eric Noble – Preston Music Schools