"

Sistema Tulsa is an extraordinary opportunity learn, grow, and have a great musical experience."
— Sistema student, age 16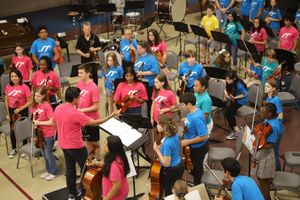 The Sistema Tulsa Community Youth Orchestra (STCYO) is a symphonic program for middle and high school students representing many of the Tulsa Public Schools and students from across the Tulsa Region. Students are placed, according to level, in an intermediate or advanced ensemble. A focus of the CYO is to improve musical skills, build community, and grow as leaders. Program begins after Labor Day. All instruction will be conducted in person.
Each student in Sistema Tulsa benefits from the support of skilled teachers who nurture a joyful learning community.  This is a rigorous, encouraging and high-quality FREE program with local and statewide recognition. Challenging repertoire, technique building workshops and numerous  performance opportunities are available to motivated students wishing to excel. Placement auditions held before program start.
We perform concerts and outreach performances celebrating our cultural and civic diversity throughout the year. 

Who can apply?
Any Tulsa-area musician who plays a symphonic instrument at the intermediate or advanced level. Our students from come those advancing through the Sistema Tulsa early training programs, school programs, private lesson studios, home schools, and church and honor ensembles. 

How much does it cost? 
Our programs are tuition-free. Students provide their own instruments and transportation to the site. If you are a student at Tulsa Public Schools, you may request to borrow an instrument from your school.  The entire program's operating expense is covered by generous gifts from private foundations and individuals. 

When do our CYO orchestras meet? 
Thursday from 5:00 to 7:00 p.m. for the Advanced Symphony Orchestra

Monday and Wednesday from 4:30-5:30 p.m. for the Intermediate Symphony Orchestra

Monday and Wednesday from 5:30-6:30 p.m. for the Beginner Orchestra (choose one day to learn a woodwind or a brass instrument)
Other musical enrichment electives will be available on different day and times. These include piano lab, chamber music, jazz combo, musical theatre, and more! 
Some of our students volunteer their time to coach younger students in our Elementary programs. This helps them fulfill community service hours while giving back to a fellow musician!  
We rehearse at the Boston Avenue Church Jubilee Hall at  1301 S. Boston Avenue. 

Who teaches rehearsals?
Our Sistema Tulsa Director, Jose Luis Hernandez, together with program faculty Debra Morgan (Tulsa Symphony) and Kelsey Rooney-Dorst (Sistema Tulsa) lead the rehearsals. From time to time, we invite guest conductors and renowned teachers to work with the orchestra. 

What does a typical rehearsal look and sound like? 
We typically begin with sectional and technique building work and end the session with a full orchestra rehearsal.  We gather for a short break where snacks are served. 

What is the application process? 
Students/Guardians fill out an application form online

Self-Asses or Present an Audition - On the application form above, you will assess your level of playing. If needed an audition can be scheduled  to determine placement in a level appropriate ensemble. In-person auditions can be scheduled by appointment in late August and early September. We also conduct auditions during the first few weeks of programming. Alternatively, any student can come on a program day, introduce themselves, and ask try out for any of our orchestras! Students should prepare a scale and short solo or excerpt of their choosing that exemplifies their most current playing level. (The Education Director will send audition guidelines once you submit your application). 

Students/Guardians receive a handbook, calendar, and sign release forms at orientation.