"

Effective education is based on moderating successful experiences within a high-functioning, aspiring, and nurturing community. Every child has limitless possibilities and the ability to strive for excellence."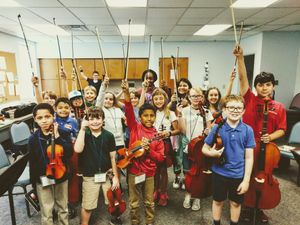 Elementary Programs is our Flagship Offering and the stepping stone towards musical proficiency and mastery later on. We begin with nurturing the whole person: each student in Sistema Tulsa benefits from a rich music curriculum and teachers that nurture a caring, cooperative and joyful community. We believe all students can learn music.
First year students begin with a Fundamentals Curriculum which prepares them to succeed in a Strings, Woodwind or Brass instrument the following year. The beginning curriculum is carefully curated to meet the needs of our community. Students sing and dance together, play ukuleles, drums, and begin reading music, thus developing a basic language of musical communication and fine technical motor skills. Students also learn to work well with others in groups and build community together. Performances throughout the year showcase their accomplishments. 
While we encourage everyone to complete the Fundamentals year, students who already have instrumental skills (because they have learned at school or have taken private lessons) can be placed within an existing ensemble group via audition to determine musical skills and social readiness. Contact us for more details on this case-by-case process. 
Students meet twice a week, Tuesday and Thursday from 4-5 p.m. at the Boston Avenue hub site. This is the minimum instruction students must take.  Other musical electives are available to them from 5-7 p.m. if they wish to spend more time learning with us. These offerings  include a chorus, piano lab, or percussion training. Some students spend up to 6 hours per week at our site learning music! All instruction is conducted in person.
Our Elementary Program is also available at Four In-School Satellites - Mayo Demonstration Academy, Tisdale Fine Arts Academy, Grissom Elementary, and Owen Elementary. New Applications are conducted through our Satellites Coordinator and Liaisons at each of the schools. Or enroll online here.
All students are welcome to Sistema Tulsa Main Hub site regardless of where they attend school.