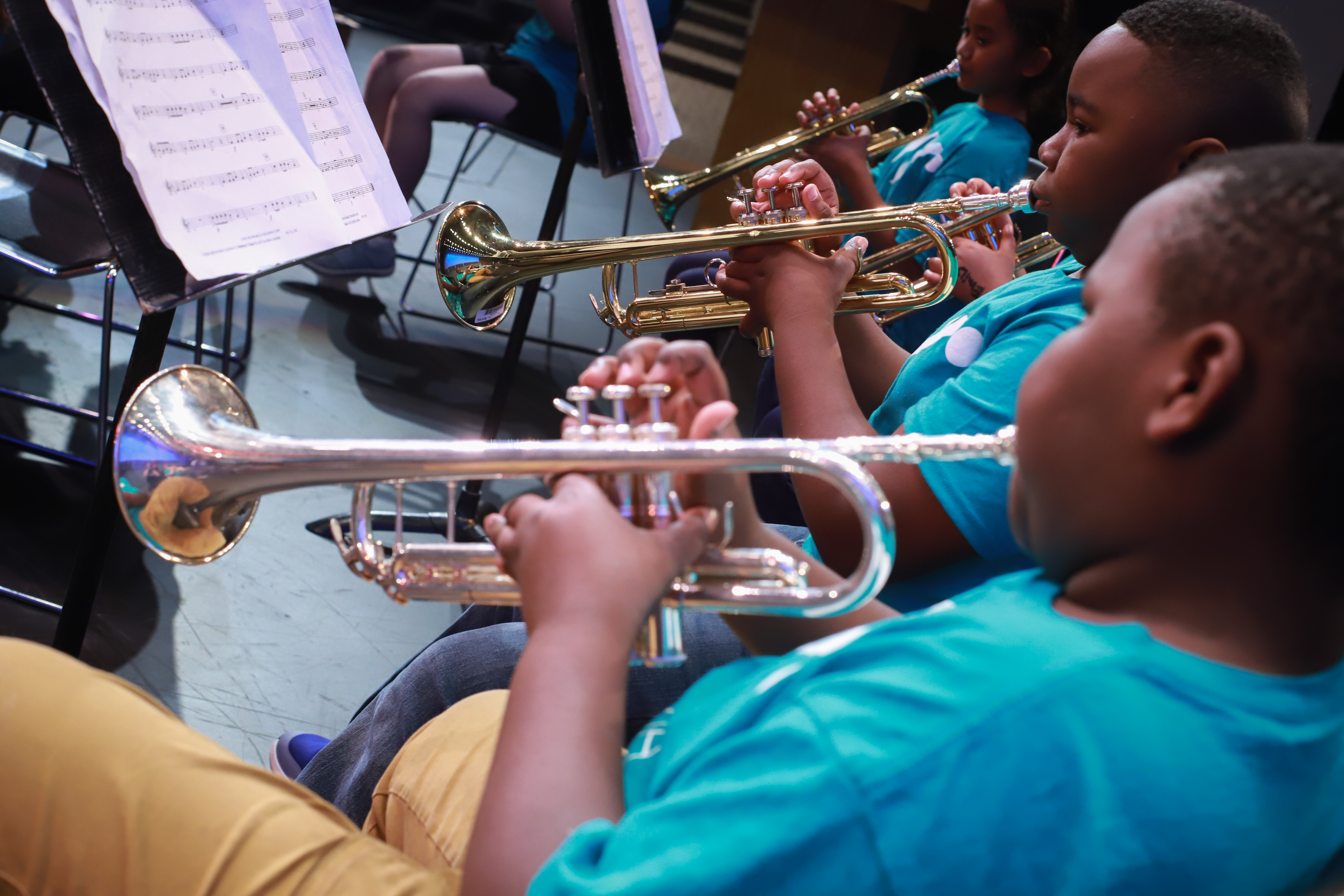 It is thrilling for a fourth-grader to hold a new and shiny trombone for the first time. Brass instruments are beautiful to look at and daunting to play.
Over time, you can play notes with perfection, but that is not what most children aspire to. They relish in the awe of the experience — pulling the slide, blowing the air and making a joyful noise. As players concoct and flex the sound, they discover that they can be masters of a small musical universe.
They start to care so much about their instrument that even the simple task of opening the case and putting it together with grace becomes a ritual that says, "I am a musician."
At Sistema Tulsa, every fourth- and fifth-grader gets an opportunity to try every symphonic instrument after a year of fundamentals instruction where they learn the basics of musical language.
 
We are often asked how a student chooses their instrument. The real question to ponder is how the instrument chooses them. After doing this for hundreds of students, it is still a mystery to me how it happens. I know sometimes a child will hold their instrument with such natural proclivity that it seems to smile at them. And their eyes sparkle when it sounds a note, sweetly, at the first try. I suppose this is the sign — the instrument loves them.
 
As an educator, I am interested in observing how students learn music and what they can learn as a result. The idea that music education can provide additional life skills is one that my colleagues and I have spent a great deal acting upon.
 
Last year, Sistema band students at Wayman Tisdale Fine Arts Academy told us they would recommend that students learn a musical instrument. They said it is a means to prove oneself and makes them curious about learning in general.
 
They warned us that it takes a lot of effort to learn music, even more difficult than math or reading. Yet, the practice of music with their peers is fun, motivating them to continue participating and gaining skills over time.
Thus, the practice of music becomes an exercise in resilience.
 
Recent research shows resilient people have better grades, lower dropout rates, more overall academic success and greater life satisfaction.
In addition, learning music affects executive functioning by strengthening the brain and framework for working memory, mental flexibility and self-control.
 
Here is what a student must do in a symphonic rehearsal: remember fingerings and bowings in a violin part, count measures and beats, anticipate changes in tempo, manage different information and feedback from their teacher, listen to the surrounding interdependent parts, be patient and behave calmly.
 
As we have worked on our program, it has become more obvious to me how musical instruction and practice can promote the development of these crucial skills.
The late Dr. Jose Antonio Abreu, my mentor and creator of the El Sistema teaching philosophy, once said that an orchestra was meant to be understood as more than a group of people playing music together. He envisioned it as a framework where people would support and care for each other in the midst of difficult artistic challenges.
This thinking clearly resonates with the ideals of democracy. How is my part helping build the masterpiece that we all can become together?
The American jazz great Wynton Marsalis explains further, "The art form itself is designed to create a balance of rights and responsibilities … and allows you to express yourself and co-create things with other people."
When our students tell us they care about the success and feelings of others here, I become more hopeful about our future.
I am confident that students who choose to learn music with the support of their teachers, parents, schools and after-school programs like ours will grow up to be productive citizens in our community.
I have already noticed Sistema students who care about setting up voter registration drives, volunteering at nursing homes, writing children's books to discourage bullying and asking to help younger students learn their first notes. This is not an accident; it is the work of music and the gifts it provides.
Like them, I have come to realize that music and all the arts beget a yearning for excellence, a renewal of the spirit and a calling to believe in yourself and others.
First published in the Tulsa Word on April 27, 2023 as
"Music Education Resonates with Ideals of Democracy"